Marked Tree Council hears from Rhoads
Friday, January 13, 2017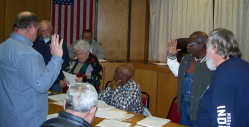 Tom Rhoads addressed the Marked Tree City Council Monday night about several issues including city council pay, the sports complex, and a burned out property.
Last month, Alderman Cleo Johnson, Jr., had asked about raising the council's pay, but a vote failed with two council members absent. Rhoads said she had looked up council pay in other cities to compare to Marked Tree's pay of $40 a month. According to Rhoads, Bono aldermen make $103 per meeting, Harrisburg aldermen make $100 per meeting, Trumann aldermen make $119 per meeting, and Lepanto aldermen make $49.75 per meeting. She said she did not check with Tyronza because they have no industry or grocery store and were not comparable.
Later in the meeting, Cleo Johnson asked City Clerk Pam Wright to see what the city council was being paid before she started working for the city. Wright said she believed it was $35 before she started, $40 after, and that it had gone up and down again since then. She said she would bring salary information from the past and from other cities, including the information Rhoads had presented, to the next meeting.
Rhoads also asked if the Sports Complex had been winterized, and Director of Public Works Wayne Hendrix said it had. Rhoads suggested increasing revenue at the Sports Complex by hiring a manager who could bring in tournaments and then be paid half the gate and concessions. Wright said the council tried that a few years ago, but the person hired got promoted at his other job and could not continue. Rhoads it was time to revisit hiring a manager for the Sports Complex and suggested hiring a recent ASU graduate.
"There's no reason we can't have one of the greatest ball parks around," Rhoads said. "This is something we're missing out on in not making this a priority."
Last, Rhoads asked about a burned out property on Poplar Avenue that caught fire back in November. Code Enforcer Soozi Williams said she had not been able to contact the person she needed to, but Rhoads said a different person was listed on the deed. Rhoads mentioned two different people Williams could call whom Williams said she had not been aware of.
After Rhoads told Williams, "As a city you get what you pay for, and you're not getting paid," Mayor Arnold ended the discussion. Rhoads then told Arnold she was bringing citizens' concerns to the council because people talk to her about issues, "and they know I'm not afraid to talk to the council." Regarding code enforcement, Williams asked why people with issues were not contacting her, and Rhoads said they did not feel she was equipped to handle code enforcement and claimed she did not return calls. "You don't follow through," Rhoads said.
Regarding the airport, Hendrix said they had a state inspection recently which found the fuel was at 192 degrees when it is supposed to be at 160 degrees. He said fuel tank has about 300 gallons of fuel in it and that the tank will be pumped out and cleaned this week. The tank will hold up to 5,000 gallons but has never been full, and Wright said it would take them forever to sell it all if it was full. The council asked her to check to see if the airport grant requires that they sell gas and report back at the next meeting.
The council also received a copy of a property maintenance code to review before the next meeting. Mayor Arnold said a committee had looked over the code last week. "This is the ordinance Trumann uses," Mayor Arnold said. "It's a good, solid ordinance, in my opinion." The council will discuss any changes they wish to make next month.