Mayors discuss updates during intergovernmental meeting
Friday, January 13, 2017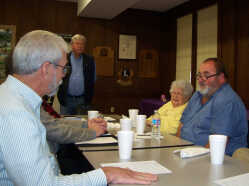 Area mayors met with each other in Trumann Tuesday to give updates on their cities and discuss future plans.
County Judge Bob Cantrell said plans for the county include building a new equipment shed at the county shop along with a new wash rack and pump house. He also said the county has gotten into a good lease program to lease equipment the county needs. Regarding the section of I-555 between Marked Tree and Payneway, which Cantrell said has been rough and gotten worse after the recent winter weather, he said he had spoken with the Arkansas Highway Department, and they had assured him resurfacing would happen this year and that it was their number one priority. The county also got state aid for 2.5 miles of asphalt.
For Marked Tree, Mayor Mary Ann Arnold said there was another renter in the strip center constructed last year and that a building in industrial had been sold which will probably be used as a distribution center. Arnold also talked about the importance of encouraging people to shop locally so the county has a strong tax base.
For Trumann, Mayor Barbara Lewallen talked about the projects that have been done using the bond money from the 2015 refinancing. She said the city's administration building has been renovated along with the library, sewer has been extended under I-555, and fencing has been put up at the detention pond. Using bond money, the police department was able to get new vehicles and equipment as well as upgrade their facility. The fire department will have a building--to house the out-of-town firetruck--built on a lot donated to the city. She said said about half of the bond projects are done. For the upcoming year, Lewallen said the city will be developing a new well, renovating the water tower in industrial, and purchasing a new fire truck. The new city shop is also under construction. In new businesses, Central Ford recently opened their new location at I-555, Dollar General is rebuilding at a new location, and a laundromat and fitness center are under construction. Lewallen said she is looking forward to 2019 when the highway department is supposed to widen Highway 69 and do some paving on 463. She also said they are on track to replace the traffic light at the intersection of 69 and 463.
For Tyronza, Mayor Charles Glover said 2017 would be their year for a repaving grant from the highway department. He said they need to see which streets the highway department will pave, and the city will also pave some while the paving company is in town. For the senior center, Glover hopes to expand the programs this year to involve more citizens. Regarding business, he said Tyboogies closing down was a blow to the city, but the building across the street has been sold and will be an office building.
For Harrisburg, Mayor Randy Mills said they just upgraded one of the ball complexes and got a matching grant to upgrade some playground equipment. They are also in talks with a business that wants to expand its building for a 24-hour fitness center.
Trumann Police Chief Chad Henson also spoke briefly about the prescription pill abuse problem. He said that since the prescription monitoring program was put in place in 2015, police can now see when people fill prescriptions at multiple pharmacies--which is called pharmacy shopping. He said Poinsett County is leading in the number of pills prescribed and dispensed and that thefts are related to the drug problem. He said the prescription monitoring program is not yet mandatory, but if it was, it would help police catch people who are pharmacy shopping. "It is an epidemic," Henson said. "We can solve it. We've just got to get on our legislators to make the prescription monitoring program mandatory."