Lady Wildcats ousted in Kell Classic quarter-finals
Friday, January 13, 2017
Trumann (6-9) played a close first half against Marmaduke but a strong third quarter by the Lady Greyhounds spelled doom for the Lady Wildcats as they fell 58-32 last Wednesday at the Kell Classic in Swifton.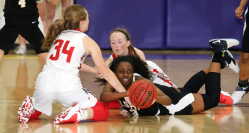 The teams traded baskets early in the first quarter as Marmaduke opened with a three-pointer, Star Simmons scored inside for the Lady Wildcats, the Lady Greyhounds made two free throws with Zaria McGuire hitting a jumper for Trumann to make the score 5-4 Marmaduke. The Lady Greyhounds scored the next seven points before Simmons hit a jumper for Trumann to make it 12-6 Maramduke with 1:59 left. The Lady Greyhounds hit one of two free throws, Olivia Greenwell converted a four-point play after being fouled hitting a three-pointer as Marmaduke added a jumper to make the score 15-10 Lady Greyhounds after one.
Marmaduke opened the second quarter with a three-pointer and an inside basket before Trumann got a conventional three-point play from Tay Smith and one of two free throws from Clementine Collins to make it 20-14 Lady Greyhounds. Marmaduke hit one of two free throws, Lexi Jackson canned a three-pointer for Trumann as Marmaduke hit three of four free throws to make the score 24-17 Lady Greyhounds. Collins hit one of two free throws for the Lady Wildcats only to see the Lady Greyhounds get a basket inside with five seconds left to make the halftime score 26-18 Marmaduke.
Full game story in January 12 edition of PCDT!