Slow start costly for Harrisburg in Kell semi-finals
Friday, January 13, 2017
Harrisburg (8-8) got off to a slow start getting outscored 21-5 in the opening quarter and could never recover as the Hornets fell 65-57 to Pangburn this past Saturday in one semi-final game of the Kell Classic in Swifton.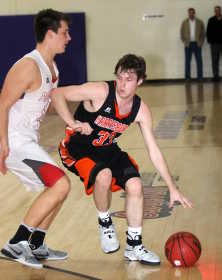 Pangburn scored the first seven points of the game before Gatlin Greeno got inside for a Harrisburg basket to make 7-2 Tigers. Pangburn scored the next eight points as Dylan Mathis hit one of two free throws for the Hornets making it 15-3 Tigers with 2:42 left. The Tigers ended the quarter on a 6-2 run with Gavin Casebier hitting two free throws for Harrisburg to make the score 21-5 Pangburn after one.
The Tigers scored first in the second quarter before Harrisburg got a stick back from Tommy Maloney, a three-pointer from Zach Biggers and an inside basket from Maloney making the score 23-12 Pangburn. The Tigers scored the next six points to go up 29-12 as the Hornets got a jumper and three-pointer from Maloney to make it 29-17 Pangburn. The Tigers added two free throws to take a 31-17 lead into the half.
Full game article in January 12 edition of PCDT!