Lady Hornets tumble in Kell quarter-finals
Friday, January 13, 2017
Harrisburg (8-8) stayed closed with Highland for the first half before the Lady Rebels slowly pulled away in the second half to take a 55-46 over the Lady Hornets in the Kell Classic last Thursday in Swifton.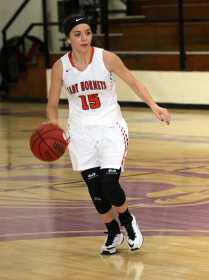 Harrisburg to back to back baskets from Cassie Armstrong and Kelly Curtis to start the game before Highland converted a conventional three-point play to make the score 4-3 Lady Hornets. Emily Armstrong's three-pointer for Harrisburg made it 7-3 Lady Hornets only to see the Lady Rebels get a three-pointer and an old-school three-point play to make the score 9-7 Highland with 4:20 left. Curtis got a steal and lay-up for Harrisburg before Highland got back to back scores to make it 13-9 Lady Rebels. Jessica Webb made two free throws for the Lady Hornets as Curtis added one of two free throws for Harrisburg to make the score 13-12 Highland. The Lady Rebels added a basket with about a minute left as Webb hit two free throws with 25 seconds left making the score 15-14 Highland at the end of one.
Highland stretched their lead to 18-14 early in the second quarter before Emily Armstrong hit two free throws and Abby Edwards netted a jumper to make the score 18-17 Lady Rebels. Highland canned a three-ball only to see Curtis hit two free throws and then get a steal and lay-up to tie the game at 21. The Lady Rebels scored down low as Harrisburg got back to back jumpers from Emily Armstrong and Webb to take a 25-23 lead with 3:27 left. Highland canned another three-ball and added a conventional three-point play to make it 29-25 before Curtis hit a jumper for Harrisburg to make it 29-27 Highland. Emily Armstrong got inside for a Harrisburg score after a Highland basket to the make the score 31-29 Lady Rebels at the half.
Pick up a copy of the January 12 PCDT for full game article!