Area sports roundup
Friday, January 13, 2017
Colby Malone scored 13 points to lead four players in double figures as Marked Tree beat Earle 65-48 this past Tuesday in Marked Tree. Nick Andrews, Markel Perry-Washington and Paul Coleman all added 10 points each for the Indians. Earle won the junior high game 48-23.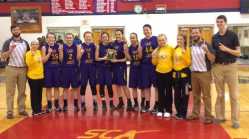 Bay lost 66-55 on the road at BIC this past Tuesday in boys high school basketball action. Taylor Layne led Bay with 22 points as Dustin Utley added 17 points for the Yellowjackets. Bay won the junior high game 32-30 as Aaron Jolly tossed in 12 points for Bay.
Whitlee Layne hit six three-pointers as she scored 22 points to lead Bay (18-9) past BIC 62-36 this past Tuesday in Monette. Abby Frisby and Sarah Blackman each added 12 points for the Lady Yellowjackets who made 15 of 25 three-point attempts in the game. Bay also won the junior high game 34-17 as Bailee Kirby scored 17 points followed by Olivia Ferguson with 10 points.
The Lady Wildcats were on the road this past Monday as they traveled to Wilson for a game with the Rivercrest Lady Colts. Star Simmons, Clementine Collins and Zaria McGuire each scored eight points as the host team posted a 64-42 win over Trumann.
Trumann (4-9) had three players in double figures but it wasn't enough as Riverside handed the Wildcats an 87-69 loss at Wildcat Gym this past Monday. Aaron Hamilton hit eight three-points to lead Trumann with 24 points as Ben Turner tossed in 14 points with MJ Barnes netting 12 points. Trumann lost the junior high game in overtime 45-42.
They Bay Lady Yellowjackets won the Liberty Invitational Tournament for the second year in a row with a 61-33 win over Thayer, MO this past Saturday in Mountain View, Mo. Whitlee Layne led Bay with 27 points as Mallory Hartley had 14 points and 13 rebounds. Abby Frisby tossed in 13 points with Sydney Higgins pulling down 10 rebounds. The Lady 'Jackets made the finals by beating Alton, MO 61-48 this past Friday. Layne led Bay with 28 points as Hartley finished with 14 points. Higgins grabbed 11 rebounds. Bay opened tournament play with a 59-35 win over Dora, MO with Frisby leading the way with 17 points. Higgins had a double-double with 11 points and 10 rebounds as Hartley and Layne both scored 11 points.