Junior Hornets swatted at hands of Osceola
Friday, January 20, 2017
Harrisburg fell behind early and never recovered as the Osceola Junior Seminoles gained a 55-23 win over the Junior Hornets this past Friday in Harrisburg.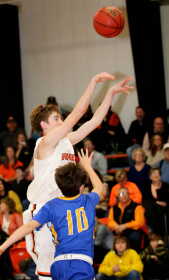 Osceola jumped out to a 4-0 lead before Ray Michael Jones scored inside for the Junior Hornets to make it 4-2. The Junior Seminoles scored the next nine point before Ray Michael Jones hit one of two free throws for Harrisburg to make it 13-3 with 1:15 left. The score stayed the same as the first quarter came to an end.
Adam Jones hit a jumper in the lane for Harrisburg to make it 13-5 early in the second quarter only to see Osceola go on a 10-0 run over the next two and half minutes to make the score 23-5 Junior Seminoles with 2:44 left in the half. Brennon Honeycutt netted a three-pointer for Harrisburg with 57 seconds left to make the score 23-8 Junior Seminoles at the half.
Full game story in January 19 edition of the PCDT!