Hornets drop home game to Osceola
Friday, January 20, 2017
Harrisburg (8-9) was outscored 41-28 by Osceola in the second half after being tied 23 all at the half as they fell to the Seminoles 64-51 this past Friday in Harrisburg.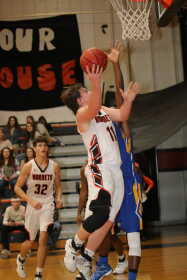 Gatlin Greeno scored the first points of the night with a three-pointer for Harrisburg as Osceola countered with a three-pointer and basket inside to go up 5-3 early in the first. Gavin Casebier hit a jumper in the lane for the Hornets as the Seminoles netted a jumper to make it 7-5 Osceola. Back to back baskets from Greeno and Casebier gave the Hornets a 9-7 lead only to see the Seminoles tie it at 9 with a basket in the paint with 1:40 left. Greeno canned a three-pointer for Harrisburg with a minute left making it 12-9 Hornets and the score stayed the same as the quarter came to an end.
Harrisburg opened the second quarter with a 7-0 run as Casebier scored inside, Zach Biggers got a lay-up off the fast break before Tommy Maloney scored inside and then hit one of two free throws to make the score 19-9 Hornets. Osceola scored the next seven points before Casebier and Maloney made back to back baskets for Harrisburg to make it 23-16 Hornets with 1:49 left. The Seminoles closed the quarter with a 7-0 run to make the score at the half 23-23.
Complete game article in January 19 edition of PCDT!