Junior Lady Hornets fall in conference play
Friday, January 20, 2017
Harrisburg got off to a terrible start being outscored 15-0 in the opening quarter on their way to a 40-7 loss at the hands of the Westside Junior Lady Warriors this past Monday in Jonesboro.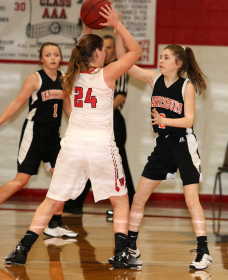 The Junior Lady Hornets had trouble handling the press with numerous baskets scored off turnovers for for Westside. Harrisburg found themselves down 9-0 with 2:36 left in the opening quarter as Westside added six more points before the first quarter came to a close.
Westside added five more points in the second quarter before Lessie Dowty got Harrisburg on the board with a baseline jumper to make the score 20-2 with 4:22 left. Kayleigh Robinson hit one of two free throws for Harrisburg just over a minute later to make the score 22-3 Westside only to see the Junior Lady Warriors score the last five points of the quarter to make the score 27-3 Westside at the half.
Pick up a copy of the January 19 PCDT for full game story!