Lady Hornets roll to win over Westside
Friday, January 20, 2017
Harrisburg (10-8) used a balanced scoring attack to defeat Westside 49-26 in senior girls basketball this past Monday in Jonesboro.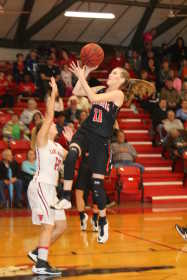 Jessica Webb got Harrisburg on the board first with a basket inside as Westside answered with a three-pointer, their only lead of the game, to make it 3-2 Lady Warriors. Emily Armstrong gave Harrisburg the lead with a three-pointer from the left corner making it 5-3 Harrisburg. Webb stuck back an offensive rebound to make it 7-3 with 3:14 left as neither team scored the remainder of the quarter.
Harrisburg stretched the lead to 13-3 with the first six points of the second quarter as Kylie DeVries had a steal and lay-up, Webb scored down low with Abby Edwards adding a jumper. Westside netted a three-pointer to make it 13-6 only to see DeVries drill a three-pointer and Lacey Lambright score inside for the Lady Hornets to make it 18-6 Harrisburg with 2:59 left. The Lady Warriors netted another three-ball before Edwards got a steal and lay-up for the Lady Hornets to make the score 20-9 Harrisburg at the half.
Full game article in January 19 edition of PCDT!