Lady Indians get conference win over EPC
Friday, January 20, 2017
Marked Tree (5-11) jumped out to a 15-1 first quarter lead before having to hold on for a 39-34 win over EPC (5-11) this past Tuesday in Marked Tree.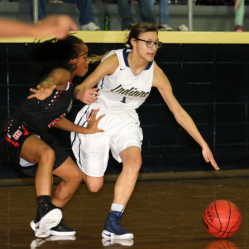 The Lady Indians jumped out to a 15-0 lead as Tullia Tull scored back to back baskets as Jayla Carter scored inside to make it 6-0. CJ Barnes hit two free throws before Tull canned a three-pointer along with a score down low making it 13-0 with 3:27 left. CJ Barnes with coast to coast for a lay-up before Jaleigha Garrett stopped the run with one of two free throws to make the score 15-1 at the end of one.
Madison Wiggins drilled a three-ball to open the second quarter only to see CJ Barnes score back to back baskets for Marked Tree making it 19-4 Lady Indians. Garrett hit one of two free throws for EPC, CJ Barnes stuck back an offensive rebound, Becca Bishop netted a three-pointer for the Lady Warriors as Angel Barnes scored inside for Marked Tree to make the score 23-8 Lady Indians with 2:58 left in the half. Bre Ward hit a jumper for EPC, Tull answered with a jumper for Marked Tree as Bishop canned another three-ball for the Lady Warriors followed by one of two free throws from Garrett and two free throws from Bishop to make the score 25-16 Lady Indians at the half.
Pick up a copy of the January 19 edition of the PCDT for full game story!