EPC holds on for thrilling win over Marked Tree
Friday, January 20, 2017
EPC (14-6) led from eight to twelve points for most of the second half before having to withstand a late Marked Tree (9-7) charge to escape with a 65-62 win this past Tuesday in Marked Tree.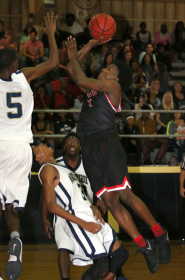 Tray Brown opened the game by hitting one of two technical free throws after EPC was caught dunking the ball in warm-ups for a 1-0 lead. Colby Malone made it 4-0 with a three-pointer before the Warrior scored the next eight points as Isaiah Taylor hit two free throws, Xzavier Reed and J'Sebian Brown both scored inside with Jase Whitfield scoring off the fast break to make it 8-4 EPC forcing Marked Tree to call time-out. Reed canned a three-pointer for the Warriors after the break as Malone got a stick back basket for Marked Tree making it 11-6 EPC with 3:25 left. Taylor and Des Barnes hit back to back jumpers for EPC before Julian Booker hit a jumper for Marked Tree to make the score 15-8 Warriors. Barnes netted a three-pointer for EPC, Booker drilled a three-pointer for the Indians as Marked Tree's Tray Brown scored off the break and Markel Perry hit two free throws to cut the EPC lead to 18-15 after one.
Reed put back an offensive rebound to start the second quarter scoring as Marked Tree got a three-pointer from Malone and one of two free throws from Tray Brown to make it 20-19 EPC. Reed scored inside for EPC and then followed with a one-handed slam before Brown canned a three-ball for Warriors followed by an inside basket from Taylor to push the EPC lead to 29-19 with 4:38 left. Perry got a stick back basket, Brown canned a trey for EPC as Reed hit two free throws for the Warriors to make it 34-21 EPC. Perry put back another offensive rebound and Malone hit two free throws as EPC took a 34-25 lead into the half.
Complete game story in January 19 edition of the PCDT!