Wildcats lose on the road to Brookland
Thursday, January 26, 2017
Trumann (4-13) led after both the first and second quarters only to see Brookland take a 44-42 lead after the third quarter and outscore the Wildcats 20-12 in the fourth to take a 64-54 win this past Friday in Brookland.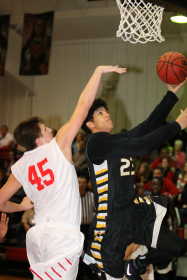 Trumann jumped out a 4-0 lead at Kelon Booker hit a jumper and Aaron Hamilton got inside for a score before Brookland hit a jumper and addd one of two free throws to make it 4-3 Wildcats. Alex Moses stuck back a offensive rebound for Trumann, Brookland scored down low as Booker got a bucket inside for the Wildcats to make the score 8-5 Trumann with 5:04 left. Brookland got a basket and two free throws to go up 9-8, Ben Turner canned a three-pointer for the Wildcats, Brookland netted a three-pointer before Moses stuck back another offensive rebound for Trumann to make the score 13-12 Wildcats. Brookland hit a jumper as Moses scored inside for the Wildcats to make it 15-14 Trumann after one.
Turner's stick back basket made it 17-14 Trumann early in the second as Brookland got a three-ball and a put back to take a 19-17 lead. MJ Barnes scored down low for Trumann as Hamilton hit a three-pointer from the left wing and Moses scored from the paint to give the Wildcats a 24-19 lead with 2:30 left. Brookland hit one of two free throws, Hamilton hit two technical free throws from Trumann before the Bearcats hit one of two free throws to make the score 26-21 Trumann. The Wildcats got a basket from Moses and a three-pointer from Hamilton to make it 31-21 Wildcats late in the quarter. Brookland added two free throws to make the score 31-23 Trumann at the half.
Complete game story in January 26 edition of the PCDT!