Junior Lady Hornets tumble at hands of Manila
Thursday, January 26, 2017
Harrisburg fell behind early and then had trouble with Manila's press as the Junior Lady Hornets lost to Manila 39-13 this past Monday in Manila.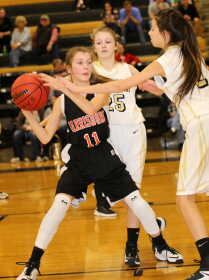 The Junior Lady Lions scored the first ten points of the game before Lessie Dowty hit one of two free throws for Harrisburg to make the score 10-1 Manila with two minutes left in the opening quarter. Neither team score the remainder of the quarter.
The scoring was slow in the second quarter as Manila scored the first six pointers over the first four and a half minutes as Brooks Faulkner hit two free throws for the Junior Lady Hornets with one second left on the clock to make the score 16-3 Junior Lady Lions at the half.
Pick up a copy of the January 26 edition of the PCDT for full game article!