Lady Hornets get road win at Manila
Thursday, January 26, 2017
Harrisburg (12-8, 9-2 4A/3A-4) went on the road to Manila this past Monday for blended conference basketball action and came away with a 56-40 win over the Lady Lions.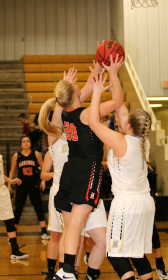 Manila opened the game with a three-pointer as Kylie DeVries answered with a three-pointer for Harrisburg to make the score 3-3. The Lady Lions got back to back three-pointers before Jessica Webb scored inside for the Lady Hornets making it 9-5 Manila with 3:41 left. The Lady Lions got a stick back basket only to see DeVries connect on a three-ball for Harrisburg to make the score 11-8 Manila after one.
The Lady Lions opened the second quarter the same as they opened the game with a three-pointer as Harrisburg responded with a three-pointer from Cassie Armstrong to make it 14-11 Manila. The Lady Lions scored inside, Emily Armstrong drilled a three-ball for the Lady Hornets as the Lady Lions hit another three-pointer making it 19-14 Manila. Harrisburg scored the next eight points as Keely Curtis hit one of two free throws, Abby Edwards hit two free throws and followed with a steal and lay-up before Webb converted an old-school three-point play to give the Lady Hornets a 22-19 lead with 2:32 left. Manila tied the game at 22 before the Lady Hornets got a three-pointer from DeVries and back to back baskets from Webb and Emily Armstrong to take a 29-22 lead at the half.
Compete game article in January 26 edition of the PCDT!