Junior Wildcats drop conference game to Westside
Thursday, January 26, 2017
Trumann's offense was dormant for most of the night as Westside jumped out to a 17-0 lead after the first quarter and never looked back on their way to a 65-11 win over the Junior Wildcats this past Tuesday in Trumann.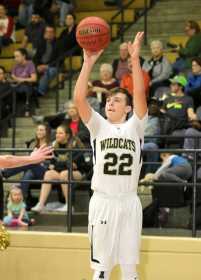 The Junior Warriors scored all the points in the first quarter as the Junior Wildcats struggled to get the ball down the court at times against the Westside defense. Trumann trailed 17-0 at the end of he opening quarter.
Westside hit back to back three-pointers to open the second quarter before Dedrick Coleman got inside for a Trumann score to make it 23-2 Westside with 4:06 left. Jaquavious Love and Dylan Clark both hit one of two free throws after a Junior Warriors' fast break lay-up to make the score 25-4 Westside. The Junior Warriors added nine more points before the quarter ended making it 33-4 Junior Warriors at the half.
Pick up a copy of the January 26 edition of the PCDT for full game story!