Sheriff Molder talks changes with Lions Club
Friday, January 27, 2017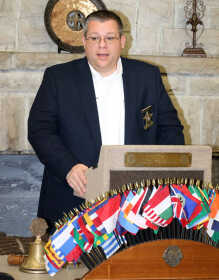 Newly elected Poinsett County Sheriff Kevin Molder spoke to the Trumann Lions Club last Wednesday. Molder told the group of a few changes coming to the sheriff's department.
"I'd first like to thank those who voted for me, and it's an honor to be your new sheriff," Molder said.
Molder said like with any new election, there will be changes made. The biggest for the sheriff's department will be in the technology area. Each patrol car is now equipped with a laptop computer that should make things a little easier for the deputies. "In the past, after a report was filled out, the deputy had to drive over to Harrisburg to turn it in, leaving his area of patrol. Now, with the help of the local police departments in each city, the reports can be completed and then emailed to the detention center, saving time for the deputies," Molder said. Molder hopes to have hot spots in each car possibly by year's end so they can complete and send reports from their vehicles.
Molder also talked briefly about some changes coming to the detention center. All the lighting in the center will be replaced with LED lighting. "We are excited about the new lighting going in. The bulbs last so long and will cut down on the time we use to have in changing out the bulbs. That will be quite a bit of time saved with the amount of bulbs we have in the facility," Molder said. The savings from the new lighting will pay for the new lights. Molder said a group will come out to do an audit on the jail and recommend where they can save money on different areas of the facility. "We want to use any resources we can to make our facility better," Molder said.
The county's Search and Rescue team along with the Reserve Deputy Program are two programs that Molder wants to enhance in the future. "Our Search and Rescue team is already set up and running, but we need more to help. It's all volunteer, and there are many ways in which an individual can help," Molder said. "We'd also like to increase our numbers in the Reserve Program. It's getting harder and harder to find those who want to participate in this."
In closing, Molder again showed his gratitude for being elected sheriff. "I again just want to say I'm honored to be your new sheriff and look forward to serving you in any way I can," Molder said.