Girl Scouts and Rotary donate basket to community policing program
Friday, January 27, 2017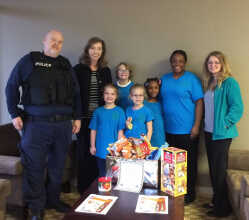 Marked Tree Girl Scout Troop 3304 joined with the Marked Tree Rotary Club to sponsor a program to donate items to the Marked Tree Police Department's Community Policing Program. The policing program, called Cops for the Community, involves police giving out juice and snacks to kids while out on patrol to help build good community relations.
The first box of donations was given to police at Unico Bank on Thursday, Jan. 19.
The Girls Scouts and the Rotary Club have donation points set up at Unico Bank, ASUN-Marked Tree, Iberia Bank, Ritter Communications, and First Delta Bank. They are still taking donations for next month's box. Items the program is in need of include: juices (bottles or pouches), snacks (snack cakes or crackers), snack size chips, and small prizes/toys.