Community reading program arrives at Trumann Schools
Friday, January 27, 2017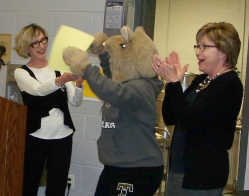 For the past few weeks, Trumann students have been asking: Who is Humphrey? Monday night they got their answer as the district announced that the school and the community would be participating in the One District, One Book program, which asks parents to read a children's novel aloud to their children, following a schedule so the whole community can do it together over the course of a month. The book chosen for this program was "The World According to Humphrey" by Betty G. Birney about the adventures of a hamster who is a classroom pet.
Monday night, students and parents packed the Trumann Intermediate School cafeteria to hear about the program and receive their copies of the books. Every elementary and middle school student will receive a copy, and high schoolers can receive one by request. The kickoff also had activities such as a photo booth for pictures with Humphrey, face painting, a hamster maze, a dance, and and some middle school students performed a skit as characters from the book.
Cedar Park Elementary Principal Michael Allen told those gathered that the purpose of the program was to encourage parents to read aloud to their kids in order to build a love of reading. "We're not satisfied with where we are in achievement, and we want to grow," Allen said. "This is to demonstrate to the students that we're all in this together."
There is a reading schedule for families to follow along with, and the school has gotten other members of the community involved as well. The school's website has a link to videos of community members reading chapters of the book, restaurants will have Humphrey coloring sheets, there will be Humphrey sightings at the school and around town, and the Parent Center will have daily and weekly activities related to the program. There is even a hashtag community members can use to show their support: #Trumannreads.
According to their website, the One District, One Book program got started in Richmond, Va., in 2001 and has since spread to over 1,000 schools across the U.S. and Canada.