Ferguson leads Junior Lady 'Jackets to win
Friday, February 3, 2017
Olivia Ferguson poured in 28 points for Bay in their 33-19 win over the EPC Junior Lady Warriors this past Thursday in Lepanto.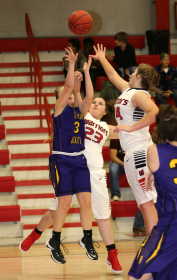 Jordyn Brewer gave EPC the early lead with a three-pointers as Ferguson hit a baseline jumper for Bay to make it 3-2 Junior Lady Warriors. Brewer canned another three-pointer for the Junior Lady Warriors as Ferguson answered with a three-ball for Bay to make it 6-5 EPC with 1:45 left. India O'Bannon's jumper in the lane made the score 8-5 at the end of one.
Ferguson and O'Bannon traded inside baskets before Ferguson hit two free throws for Bay and O'Bannon scored inside again for EPC to make the score 12-9 EPC with 3:42 left in the half. Bailee Kirby drilled a three-pointer for Bay, Emili MMangrum hit two free throws for the Junior Lady Warriors only to see Ferguson score the next nine points for Bay with a three-pointer, one of two free throws, a baseline jumper and another three-pointer to make the score 21-14 Bay at the half.
Full game story in February 2 edition of the PCDT!