Junior Lady Indians fall to Bay
Friday, February 3, 2017
Marked Tree fell behind early and could never catch up as the Bay Junior Lady Yellowjackets took a 34-20 win over the Junior Lady Indians this past Friday in Marked Tree.
Bay jumped out to a 8-0 lead after the first quarter as Olivia Ferguson scored all the points for Bay with two free throws, a three-pointer, a basket inside and one of two free throws.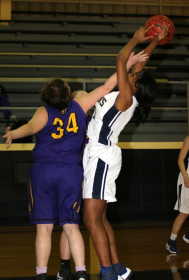 Bailee Kirby hit two free throws followed by two free throws from Mykaela Jolly to give Bay a 12-0 lead before Marked Tree got on the board with a jumper from Carmyn Parrish making it 12-2 Junior Lady Yellowjackets. Ferguson hit two free throws for Bay as Kirby drilled a three-pointer for the Junior Lady Yellowjackets before Taylor McCuiston hit one of two free throws for Marked Tree making the score 17-3 Bay with 2:08 left. Kirby and Ferguson made back to back baskets for Bay to stretch their lead to 21-3 at the half.
Pick up a copy of the February 2 edition of the PCDT for full game article!