Marked Tree pulls away in second half to down Bay
Friday, February 3, 2017
Marked Tree (13-7) pulled away from Bay (17-11) in the second half as the Indians took a 54-41 blended conference win over the Yellowjackets this past Friday night in Marked Tree.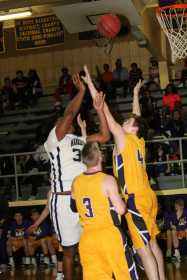 Taylor Layne scored the first points of the game for Bay with a three-pointer before Markel Perry put back an offensive rebound for Marked Tree to make it 3-2 'Jackets early. Dustin Utley hit a jumper in the lane for Bay as Caleb Hartgen followed with a stick back for the Yellowjackets to make it 7-2 Bay with 4:42 left. Marked Tree got back to back baskets from Julian Booker and Kentarius Allen to pull within 7-6. Hartgen got inside for a Bay basket to give the Yellowjackets a 9-6 lead after one.
The Indians started the second quarter with an 8-0 run as Paul Coleman hit one of two free throws, Perry netted a jumper, Allen scored in the paint as Tray Brown drilled a three-pointer to make it 14-9 Marked Tree with 3:48 left. Hartgen hit a jumper for Bay, Allen answered with a jumper for Marked Tree, Utley hit two free throws for the Yellowjackets as Nick Andrews hit one of two free throws for the Indians to make it 17-13 Marked Tree. Layne tied the game at 17 with two free throws followed by a baseline jumper only to see Shy Anderson convert an old-school three-point play for Marked Tree with eight seconds left to give the Indians a 20-17 lead at the half.
Full game story in February 2 edition of the PCDT!