Layne scores 34 to lead Bay past EPC
Friday, February 3, 2017
Taylor Layne scored 34 points, including 16 for 16 from the free throw line, to lead Bay (19-11) to a 66-56 win over the EPC Warriors (16-7) this past Monday night in Bay.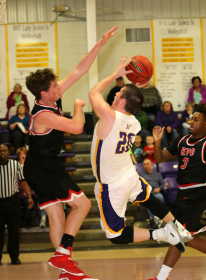 Layne gave Bay the early 3-0 lead with a three-pointer before Isaiah Taylor canned a three-pointer for EPC and followed with a jumper in the lane to make it 5-3 Warriors. Dustin Utley hit a jumper in the lane for Bay, Des Barnes stuck back an offensive rebound for EPC, Slade Grove scored down low for the Yellowjackets as Barnes netted a jumper for the Warriors to make it 9-7 EPC with 2:41 left. Layne hit a jumper in the lane for Bay to tie it a 9 only to see Jase Whitfield drill a three-pointer for the Warriors to give EPC a 12-9 lead. Utley and Layne had back to back baskets to give Bay a 13-12 lead before Travis Joplin hit a jumper late to make it 14-13 EPC after one.
Layne hit a jumper followed by a three-ball to make the score 18-14 Bay before Taylor hit two technical free throws for EPC after a technical was called on a Bay player. Layne and Utley both made baskets for Bay around a Joplin jumper for EPC making it 22-17 Yellowjackets with 1:17 left. Joplin canned a three-pointer for EPC as Whitfield got a steal and lay-up for the Warriors to tie the game at 22 with 30 seconds left. Layne hit two free throws with a second left giving Bay a 24-22 halftime lead.
Full game story in February 2 edition of the PCDT!