Graham wins award from Thespian Society
Monday, February 6, 2017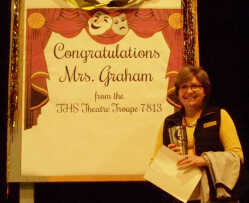 Trumann School Superintendent Myra Graham was in for a surprise last Thursday when she was asked to visit the high school. During a small assembly of theater students, Graham learned she had won Outstanding Administrator of the Year from the Arkansas Thespian Society. This is the first year the award has been given out.
"Mrs. Graham fully supports the theater department," said Rob Spencer, THS theater department director. In a video students put together that was submitted to the awards committee, Spencer talked about how Graham trusted him when he asked for things the theater department needed. One example he gave was when they did "Little Shop of Horrors," and he made a case to Graham for renting the Audrey II prop because "the plant needs to be good or it could ruin the whole show." Graham agreed with him and approved the rental.
"She supports us in every single way from the small things to the big things, and she comes to every performance," Spencer said.
Graham said she was not often taken aback but was by winning this award. "I am just honored to be able to support these kids," Graham said. "I'm impressed with the caliber of the productions our theater department has presented to the community. They really are good! I'm proud to be a part of this group and this school."
Graham was invited to attend the Thespian Society's annual festival--which will be attended by 1,100 students from across the state--to receive her award, and the students made her an honorary thespian of their troupe.