Flag dedicated in Winkles' honor
Monday, February 6, 2017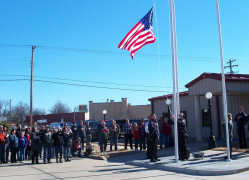 Last Saturday, Jan. 28, marked three years since Trumann Fire Chief Rick Winkles passed away. As a lasting memorial to Winkles, the Trumann Fire Department held a dedication of flagpoles erected in his memory.
Current Fire Chief Revis Kemper said the American flag will fly 24 hours a day year-round in Winkles' memory and would be lit up at night. In the future, they will also put up a plaque near the flagpoles. Winkles also has a memorial at the Fallen Heroes Park near the Sports Complex, but Kemper said this memorial at the fire station would be an everyday reminder for them that would always be close by.
During the dedication, Kemper read a narrative of what occurred the day Winkles died. After the call came in at 12:14 p.m. on Jan. 28, 2014, Winkles had been first on site to respond to a grass fire. The fire spread to a nearby residence, and Winkles fought the fire on the outside until another fire truck could arrive. When the truck arrived, Winkles went inside the residence. He came out about 15 minutes later short of breath, and was taken to the hospital. He suffered a heart in the ambulance and suffered a second heart attack at the hospital about an hour later.
Winkles had been fire chief since 2004. He started as a volunteer firefighter in 1986 and became full-time in 1988. He also served the county and city in numerous capacities, including as a reserve deputy for the Sheriff's Department and as head of the county's Search and Rescue Team.
Winkles' son, Jeremy Winkles, also spoke about him. Jeremy said his dad was always the first one in. One day a couple years before he passed, Jeremy said he asked his dad why he didn't slow down and let the younger guys handle things more. "He told me, 'How can I live with myself if I'm not the first one in and something happened to one of those guys?'"
Kemper told those gathered for the dedication that everything had been donated by community members and businesses. Woodmen of the World donated the flagpoles, Hedger Brothers Concrete donated the concrete, Tim's Concrete donated time to help finish the concrete, and Craig Construction donated time to put up the lighting.