Geraldine McDaniel
Tuesday, February 7, 2017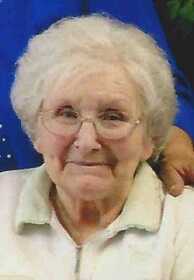 JONESBORO - Mrs. Geraldine Delores McDaniel, 86, departed this life Wednesday, February 1, 2017, at Craighead Nursing Center in Jonesboro. Mrs. McDaniel was born in Leachville, Ark., and was formerly of Watervliet, Mich. before moving to Jonesboro. She was a retired emergency room nurse and was of the Church of Christ faith. Her fondness for children ultimately led her to work in the pediatric ward of Watervliet Community Hospital in Watervliet, Mich. Her hobbies included gardening, knitting, crocheting and she was a volunteer 4-H mom for the Clever Clovers 4-H Club in Coloma, Mich. Mrs. McDaniel was preceded in death by her loving husband of 66 years, Chester McDaniel; one son, Brian "Keith" McDaniel; one sister, Bonnie Hazelwood; three brothers, Wayne Milligan, Curt Milligan and J.C. Milligan and her parents, Claude and Josephine Swink Milligan.
She is survived by one daughter, Brenda Johns of Jonesboro; one son, Mark McDaniel of Oklahoma City, Okla. and two grandchildren, Jeremy Johns and Kacey Johns.
Funeral services were held Feb. 4 in the chapel of Thompson Funeral Home in Trumann with Rev. John Maley officiating. Burial followed at Pine Hill Cemetery in Jonesboro.
An online register book can be signed at www.thompsonfuneralhome.net.