Andrews signs with Harding University
Thursday, February 9, 2017
Marked Tree's Nick Andrews made it official last Wednesday when he signed his scholarship to play football for Harding University in front of family, friends and coaches at Marked Tree High School.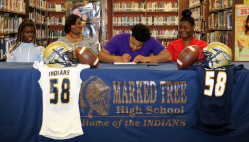 "I'm just glad to get it over," was Andrews first words about the days' events. "I want to thank God for giving the opportunity to further my career not only athletically, but academically as well. I'd like to thank my coaches and my teachers for all the help they've given me to get me here," Andrews said.
Andrews, listed at 6'-3" and 280 pounds, played several positions over his years at Marked Tree, but really shined this past season at the defensive tackle position. Andrews finished his senior year with eight quarterback sacks, 13 tackles for loss, three fumble recoveries and two forced fumbled in helping the Indians go 6-5 and make the state playoffs.
Marked Tree Coach Cody Wallis said Harding is not only getting a great player but a great kid. "Nick has played anywhere we needed him. Linebacker, o-line, d-line, deep snapper, and even a little fullback, he did whatever it took to make the team better," Wallis said. "They'll get him down there, get him in the weight room and get him ready for the fall. I don't think the surface has even been scratched at how good he could be," Wallis added.
Even thought Andrews was a multi-sport player in high school having played basketball and threw the shot in track, he knows he will only play one sport at Harding. "They want me to come and play D-tackle for them. I'm ready to get there, hit the weight room and do whatever it takes to get ready for the season," Andrews said.
Andrews had scholarship offers from Ouachita Baptist, Arkansas Tech and Arkansas-Monticello along with preferred walk-on offers from Arkansas State and Memphis. "Harding has stayed with him since we went to camps there in the summer. They were good to him and have stayed with him since day one," Wallis said.
All-state and Best Under the Sun honors were bestowed on Andrews after the season in which he said were his proudest accomplishments. "I told my teammates last year I was going to get both my senior year. I set those goals and did what it took to get them. I'm going to do the same thing in college," Andrews added.