Lady Hornets sting Lady Wildcats 66-36
Thursday, February 9, 2017
Senior Jessica Webb led three players in double digits with 19 points as Harrisburg (14-6) down the Lady Wildcats 66-36 on senior night this past Thursday in Harrisburg.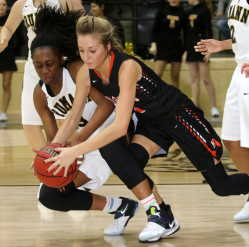 Senior Kylie DeVries put Harrisburg on the board first with a three-pointer as Daly Taylor answered for Trumann (8-13) with a stick back basket to make it 3-2 Lady Hornets early. Webb scored back to back baskets and added a free throw after the second basket to make it an old-school three-point play to make the score 8-2 Harrisburg. DeVries hit a jumper for Harrisburg before adding one of two free throws before senior Emily Armstrong drilled a three-pointer from the left wing for the Lady Hornets making it 14-2 Harrisburg with 2:37 left. Zaria McGuire scored inside for Trumann only to see senior Keely Curtis hit three of four free throws on back to back trips to line for Harrisburg making it 17-4 Lady Hornets. McGuire got inside for another Lady Wildcat basket before DeVries hit a jumper for Harrisburg with nine seconds left to make it 19-6 Lady Hornets after one.
Harrisburg scored the first eight points of the second quarter as Webb and DeVries hit back to back jumpers, DeVries hit two free throws with Webb scoring in the paint to make it 27-6 Lady Hornets. Trumann got an inside basket from McGuire who then hit two free throws for the Lady Wildcats making it 27-10 Harrisburg with 3:45 left. Emily Armstrong scored inside for Harrisburg, Tay Smith hit a jumper for Trumann, Lexi Jackson canned a trey for the Lady Wildcats before Curtis hit two free throws for the Lady Hornets to make the score 31-15 Harrisburg. Jackson hit one of three free throws after being fouled attempting a three-pointer as Emily Armstrong hit one of two free throws for Harrisburg to make it 32-16 Lady Hornets at the half.
Complete game article in February 9 edition of the PCDT!