Junior Lady Hornets fall in district opener
Thursday, February 9, 2017
Harrisburg had no answer for Brookland as the Junior Lady Hornets fell 58-11 to the Junior Lady Bearcats this past Saturday in the 4A-3 junior district tournament being played in Cave City.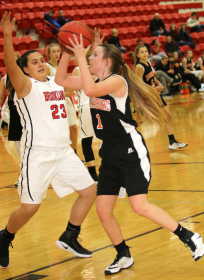 The Junior Lady Bearcats jumped out to an 8-0 lead in the first half of the opening quarter before scoring 15 points in the last two and a half minutes to take a 23-0 lead over Harrisburg as the first quarter came to an end.
Brookland scored the first eight points of the second quarter to go up 31-0 before Kiley Lovell scored inside for the Junior Lady Hornets to make the score 31-2 Brookland with 1:04 left. The Junior Lady Bearcats added a score late to make it 33-2 Junior Lady Bearcats at the half.
Complete game story in February 9 edition of the PCDT!