Junior Lady Wildcats ousted in district tourney
Thursday, February 9, 2017
Trumann's offense never got on track against Cave City as the Junior Lady Wildcats lost 33-17 this past Saturday in the 4A-3 junior high district tournament being played in Cave City. The loss ended Trumann's season.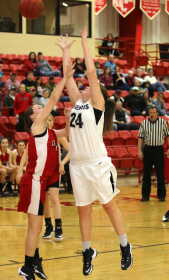 Emily Mathis got the Junior Lady Wildcats on the board first with a stick back basket as Cave City scored the next seven points to take a 7-2 lead with 1.56 left. Mathis put back another offensive rebound before adding a basket in the paint with eight seconds left to make the score 7-6 Junior Lady Cavewomen after one.
Trumann couldn't get a shot to fall in the second quarter as Cave City scored six points over the first four minutes of the quarter to take a 13-6 lead at the half.
Grab a copy of the February 9 PCDT on newsstands now for complete article!