Junior Warriors fall in junior district thriller
Thursday, February 9, 2017
EPC had a chance for a potential game tying shot but the full court inbound pass got away from Jamario Crawford as time expired giving Cross County a 33-31 win over the Junior Warriors in the 1A/2A-10 junior district tournament in Marked Tree.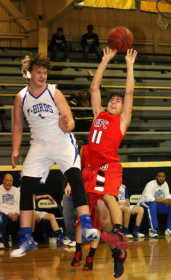 Cross County got on the board first before Preston Rains scored inside for EPC to tie the game at 2. Rains hit two free throws for the Warriors before the Junior Thunderbirds scored back to back baskets to make it 6-4 Cross County with 2:47 left. Candon Argo hit one of two free throws for EPC as Rains scored inside and added two free throws to make the score 9-6 EPC at the end of one.
The Junior Thunderbirds opened he second quarter with a basket in the paint only to see Argo and Rains score back to back baskets to make the score 13-8 Junior Warriors with 3:16 left. Cross County hit back to back three-pointers before Crawford scored inside for EPC with nine seconds left to make the score 15-14 EPC at the half.
Full game article in February 9 edition of PCDT!