Bay duo inks with Williams Baptist College baseball
Thursday, February 9, 2017
After playing four years of high school sports, Bay's Taylor Layne and Nolan Smith decided they would play another four years together as they signed to play baseball at Williams Baptist College this past Tuesday in front of families, friends and coaches at Bay High School.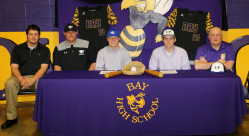 Layne, who has pitched and played shortstop for the Yellowjackets over the last three years said it was a big relief to sign with WBC. "I'm glad I've made my final decision. I can't wish away basketball season just yet as we have one more championship to win," Layne said. "I'm looking forward to getting to WBC though," Layne added. Layne made the all-state team after his sophomore season.
Smith was also happy to get the papers signed. "It's a lot of weight off my shoulders for sure. I waited a little bit before deciding but just woke up one morning and said I'm ready so I called Coach Abanathy to let him know," Smith said. "It was just one of those gut feelings," Smith added. Smith has pitched and played various positions in his first three years at Bay. Smith was selected to all-state team last year.
WBC head coach Stephen Abanathy is happy to get both these guys as he knows what he's getting. "The first time I saw them play, I was coaching at Ridgefield Christian and Nolan was on the mound. He shut us down and Taylor made a play at shortstop that was Jeter like with a jump throw. I knew then that they could play at the next level," Abanathy said. "Then to coach them for two years, I knew they could play at the next level. They are great kids and they both know how to win," Abanathy added.
Smith said he was happy that Layne will be there with him. "He's my best friend. For us both to be at WBC doing what we love, he doesn't get much better than that. It's going to be a great time."
"Signing to play in college is something I've always wanted to do. It's why you come in and work hard day in and day out to get that chance to play college baseball or basketball," Layne said.