Junior Indians ousted in district opener
Thursday, February 9, 2017
Marked Tree couldn't find a way to slow down Buffalo Island Central's offense as the Junior Indians lost 53-23 to the Junior Mustangs this past Tuesday in the 1A/2A-10 junior high boys' district tournament in Marked Tree.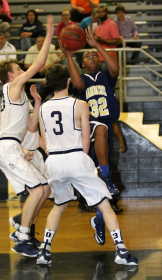 BIC opened the game with a 12-0 run before Marked Tree got on the board with an inside basket from Itavious Nesbitt with 24 seconds left to make the score 12-2 Junior Mustangs at the end of one.
The Junior Mustangs score the first nine points of the second quarter before Nesbitt scored inside to make it 21-4 BIC. The Junior Mustangs scored five straight points, BJ Marshall converted an old-school three-point play for Marked Tree before Nesbitt went coast to coast for a Marked Tree lay-up to make it 26-9 BIC with 2:01 left. BIC hit two free throws, Marshall hit one of two for Marked Tree as Nesbitt went coast to coast for a score to make it 28-12 Junior Mustangs at halftime.
Complete game article in February 9 edition of the PCDT!