Service dog makes family's life easier
Monday, February 13, 2017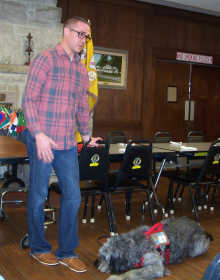 A couple of years ago, Trumann Police Officer Chad Mason spoke to the Trumann Lions Club about the need for a service dog to help his son, Cooper, who was diagnosed with Asperger's. In four and a half months, the Trumann community was able to raise the $14,000 needed to get the Mason family a service. Last week, Mason brought the dog to the Trumann Lions Club to talk about how it has helped his family.
Asperger Syndrome is an autism spectrum disorder characterized by significant difficulties in social interaction and nonverbal communication. It also involves repetitive behaviors. Mason said that in researching Asperger's following his son's diagnosis, he found that service dogs can help those diagnosed.
The family had to wait 18 months before they could pick up their service dog. Fandral is a Goldendoodle (half Golden Retriever, half Poodle) who turns two years old in April. Mason said Goldendoodles make good service dogs because they are both smart and obedient. Fandral was trained by 4 Paws for Ability in Ohio. During training, the families who have applied for service dogs are asked to send in videos of their everyday life. The videos are shown to the dogs, and if a dog has a positive reaction to a certain child, they match the dog with that family. After training, the family then comes up for two weeks of training with the dog and to learn the commands before they can take the dog home.
The Masons have had Fandral for six months, and he has been an immense help with their son. Mason said Fandal has been trained in three main areas: behavior disruption, tethering, and tracking.
When Cooper has a meltdown, Fandral is trained to disrupt that behavior by lying in his lap or even on top him if he needs to be held down. The sensory input from the dog helps calm Cooper down and "gives him a reality check," Mason said. Mason said the meltdowns used to last up to a half hour or more, but with Fandral's help they are down to a fraction of that. Fandral works on commands from Cooper's parents and will not get up until they give him the command to.
Mason explained that autistic children are prone to wandering, so when the family goes to the grocery store, they are able to tether Cooper to Fandral's tracking vest to keep him from wandering off. Fandral also wears a socializing vest over his tracking vest that lets people know he is a service dog and that he is there to work. "It's made our lives at the grocery store much, much simpler," Mason said.
For tracking, Mason said Fandral's training is the same as police dogs. The Masons ended up putting Fandral's tracking training to the test a few weeks after they got back from Ohio. "My son was getting very overstimulated," Mason said. "As a father, it's tough to see him have a meltdown because you have to restrain him." They sent Cooper to his room for 10-15 minutes to calm down, and after ten minutes it was very quiet. When they checked the room, Cooper was gone. His window was up and the screen had been popped off. Mason gave Fandral the tracking command, and the dog went off immediately. "He found him in three and a half minutes hiding in a shed 350 yards from the house," Mason said.
"I knew dogs were man's best friend, but I didn't know they could do that type of stuff," Mason said.
Fandral also goes to school with Cooper. Mason said the school is going to hire an aid to work with the dog while at school because an adult must be present to give the commands, and he will train the aid over the course of two weeks.
Mason said the dog has been a big help at school so far. "I saw how Cooper acted before and saw how he acts now. It's like two different kids," Mason said. And though Cooper still gets overstimulated, he will now hug Fandral to calm down.
The Masons will be able to get 10-11 working years out of Fandral before retiring him. After that, he will be a family dog.
"I can't thank you guys enough," Mason said. "The city of Trumann is a very giving community. That's why I continue to work here."