Hornets fall to Ridgefield Christian School 72-68
Thursday, February 16, 2017
Ridgefield Christian School (RCS) outscored Harrisburg 28-24 in the final quarter after the teams were tied 44 at the end of three to take a 72-68 win over the Hornets this past Friday on Senior Night in Harrisburg.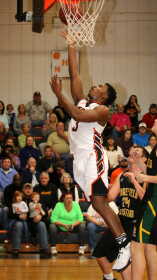 RCS got on the board before the clock started as they hit one of two technical free throws due to Harrisburg dunking in pre-game warm-ups making it 1-0 Warriors. Senior Gatlin Greeno scored the first points for the Hornets with a three-pointer as senior Malik Versie added one of two free throws for Harrisburg to make it 4-1 Hornets. The Warriors hit a jumper, Robin Hanke (exchange student from Germany) scored inside for Harrisburg, RCS hit another jumper as Greeno netted a jumper for the Hornets to make it 8-5 Harrisburg with 2:30 left. The Warriors scored from the paint, senior Tommy Maloney drilled a three-pointer for Harrisburg before RCS scored back to back baskets to make the score 11-11. Maloney hit two free throws for the Hornets and followed with a stick back basket to make the score 15-11 Harrisburg at the end of one.
Maloney canned another three-ball for Harrisburg to open the second quarter as RCS answered with a three-pointer to make the score 18-14. Maloney and Greeno scored back to back baskets before the Warriors netted another three-pointer to make the score 22-17 Hornets. Greeno and Maloney again scored back to back baskets as RCS reeled off seven straight points to make it 26-24 Harrisburg with 3:16 left. Gavin Casebier hit two of four free throws on consecutive trips to the foul line only to see the Warriors score the last 10 points of the quarter to take a 34-28 lead at the half.
Full game article in February 16 edition of the PCDT!