Preston talks economic development in Arkansas at Trumann chamber banquet
Friday, February 24, 2017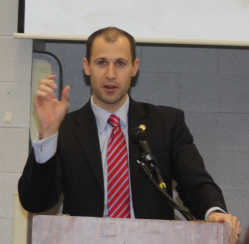 According to Mike Preston, Arkansas has a lot to be proud of in the area of economic development and needs to keep that momentum going forward. Preston, who serves as Executive Director for the Arkansas Economic Development Commission, was keynote speaker for the Trumann Chamber of Commerce's annual banquet Feb. 16.
"We have a great story in Arkansas," Preston said, citing the state's agriculture and seven Fortune 500 companies. "Our issue is that we haven't done a good job of telling our story." With that in mind, Preston said part of Governor Asa Hutchinson's drive has been to get that story out to the country and the world.
Preston said Governor Hutchinson was the first governor to visit Cuba when U.S. ties were re-established, which led to lifting a poultry ban that had been in place for the past 7-8 years because of Avian Flu. Now, tens of millions of dollars worth of poultry are going into Cuba from Arkansas. Cuba was just one example Preston gave of his and the governor's trips around the world on economic development missions, which have led to AEDC opening offices in Germany, China, and Japan. "The world is certainly a global place. Arkansas wants to be successful on that stage," Preston said.
Preston also spoke about bringing companies into Arkansas, such as SIG Sauer, a firearm manufacturer based out of New Hampshire, which now has a manufacturing plant in Jacksonville, Ark. Preston said the plant was the result of one of many cold calls the governor has made with him to CEOs thinking of expanding their businesses.
Another success story he mentioned was Daisy, a bb gun company based out of Rogers, Ark., which was purchased by a Florida company called Gamo. "We got involved and made sure they kept those jobs and expanded to add 28 manufacturing jobs," Preston said. AEDC were also able to convince Gamo to move their headquarters from Fort Lauderdale, Fla., to Rogers.
Preston also went over job numbers, saying over the past two years, Arkansas has added 57,000 new jobs with unemployment at 3.9 percent--the country's rate is 4.9 percent and a range of 4-6 percent is considered healthy. Preston said Arkansas currently has 1.63 million people working and has led the country in GDP growth. Of the new jobs, 9,100 were the result of 200 competitive projects AEDC worked to win, such as Big River Steel in Osceola. And he said the state had a $177 million surplus at the end of last year.
"It boils down to one word: momentum," Preston said. "We've got a lot of momentum. Let's not lose it. The challenge is to continue to build on that momentum and talk about these wins."
The Trumann Chamber of Commerce also handed out their annual awards during the banquet. Award winners were as follows.
*Excellence in Agriculture: Winfield Solutions.
*Educator of the Year: Jerry Greenwell.
*Citizen of the Year: Gary Martin.
*Outstanding Chamber Member: Deanna Ballard.
*Outstanding Chamber Board Member: Rick Gillette.
*Business of the Year: Tru-Cab.
*Community Service Award: Debra Liles and Sheri Jones.