Lions learn benefits of AARP
Friday, February 24, 2017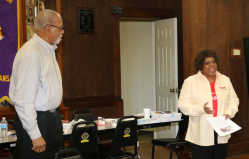 Johnetta Crumbly and Leroy Williams, both volunteers with AARP, were the guest speakers at the Trumann Lions Club's weekly meeting last Wednesday.
Crumbly told the group that caregiving for a family member is getting more and more common. She said AARP is available to help. Crumbly said there are five steps that will help in caregiving.
Start the conversation. Most wait until a crisis occurs before they talk about wishes for healthcare or their finances. Don't wait until an accident or serious diagnosis happens where decisions may be driven by assumptions. "Look for the right time to talk to your loved ones and always respect their wishes," Crumbly said. Form a team. Caring for a family member is a big responsibility and may be to much for one person to handle. Form a team that includes family members and even include your church family. Make sure to support each other in providing care. "Me and six of my siblings are on our team. We support each in taking care of our mother," Crumbly added.
Make a plan. When you make a plan, talk to your team members about their preferences for what task. The plan doesn't need to be extensive or fancy but should include immediate needs and future plans. Set up a system to communicate with everybody on your team. "We just started discussing who could be there for breakfast, lunch, and dinner and then who can be there in the evenings. We have a phone set up so our mother can push a button to get one of us if she needs something," Crumbly said. Find support. Locate community services or consult a professional if the need arises. It's okay to reach out for extra support if the care needed is beyond what you or your team can provide. "Never be afraid to ask for help," Crumbly said.
Care for yourself. Caregiving at a distance is common. Some use social workers, nurses, and other professionals to help with care choices and to help monitor care when you don't live nearby. "There are several agencies that can provided help in these cases. Call your local AARP of help if needed," Crumbly said.
Williams told the group in closing that AARP is available to offer help if needed. "We want to help you in anyway we can," Williams said. More information can be found at www.aarp.org/ar or at AARP's page on Facebook or Twitter.