Marked Tree students hold food drive
Friday, February 24, 2017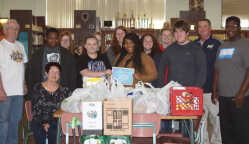 Marked Tree High School students competed in a Super Bowl food drive recently to raise bowl food items for the Three Rivers Food Pantry.
The freshman, sophomore, junior, and senior classes competed against each other to see which class could raise the most. All together, the classes were able to donate a total of 244 pounds of soups, ramen noodles, mac and cheese, chili, beans, and other items. The senior class won and will receive a pizza party for all class members.
Julia Hudspeth, a senior and Student Government president, said Principal Matt Wright approached her about organizing the food drive. The Student Government organized the food drive while the National Honor Society promoted it through posters and encouraging students to donate.
Hudspeth said she has done a lot of work with the food pantry and believes helping them is important for the community. "I have personally experienced going to the food pantry, and I've gone when they ran out of things," Hudspeth said. "It's good to help the community. If you do, it comes back to you."
Connie Huff, co-director of the food pantry, said Marked Tree students have helped the food pantry in so many ways. "We always hear the negative about our youth, but in Marked Tree that's not happening." According to Huff, students have helped work several fundraisers for the pantry. The First Baptist youth group, organized by Bobbie Pharis, help out a lot. They come to the pantry once a month to pre-pack and restock for the pantry crew and are going to paint the bathroom. The youth group from First United Methodist has held fundraisers for the pantry. Students have held bake sales and worked fundraisers for the pantry. They will have two booths in the second annual Craft Fair this year--the proceeds of which go toward the food pantry.
Huff said that while students do receive community service credit for school, the real reason they volunteer for the food pantry is because they love it. "These kids are awesome," Huff said. "People who don't believe kids are awesome need to take a look at our youth better. They go above and beyond."