Lady Hornets tumble in district semi-finals
Monday, February 27, 2017
Harrisburg (13-11) got outscored 18-11 in the final quarter as Cave City hit six of eight free throws in the last minute and a half for a 48-39 win over the Lady Hornets in one 4A-3 district semi-final game this past Wednesday in Pocahontas.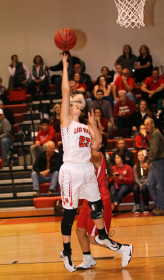 Cassie Armstrong got Harrisburg on the board first with a three-pointer as Cave City canned a three-ball to make it 3-3 almost halfway through the quarter. Kylie DeVries netted a three-pointer for the Lady Hornets as Keely Curtis followed with a fast break lay-up for Harrisburg to make the score 8-3 in favor of the Lady Hornets. The Cavewomen hit a three-pointer and one of two free throws to make it 8-7 Harrisburg after one.
Harrisburg opened the second quarter with a 7-0 run as Cassie Armstrong scored inside before Emily Armstrong drilled a three-pointer and followed with a fast break lay-up to make it 15-7 Lady Hornets. Cave City converted a conventional three-point play, DeVries canned a three-ball for Harrisburg, the Cavewomen hit a jumper with Emily Armstrong scoring inside for the Lady Hornets to make it 20-12 Harrisburg with 3:48 left. Cave City hit a jumper, Emily Armstrong scored off the fast break for Harrisburg as Curtis hit one of two free throws for the Lady Hornets to make it 23-14 Harrisburg at the half.
Full game article in February 23 edition of PCDT on newsstands now!