Marked Tree tops EPC for district title
Monday, February 27, 2017
Marked Tree and EPC school are only 10 miles apart but the teams traveled over three hours to meet in the 2A-2 district finals this past Saturday in Cotter. The Indians (18-8) jumped out early and never looked back as they downed the Warriors (19-8) 77-66 to claim the title, their second in a row.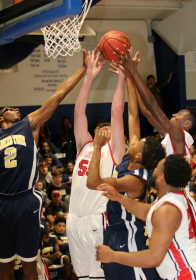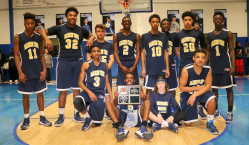 Tray Brown opened the scoring for Marked Tree with a three-pointer as J'Sebian Brown hit two free throws for EPC to make it 3-2 Indians. Markel Perry and Colby Malone scored back to back baskets for Marked Tree before Des Barnes hit a jumper for the Warriors making it 7-4 Indians. Marked Tree scored the next eight points as Malone scored off the fast break, Tray Brown canned another three-pointer, Nick Andrews hit one of two free throws ans Julian Booker went coast to coast for a lay-up to make it 15-4 Indians with 2:04 left. Xzavier Reed netted a three-pointer for EPC before the Indians got inside scores from Perry and Andrews followed by a stick back basket from Perry to make the score 21-7 Marked Tree after one.
Barnes and Brown scored back to back baskets for EPC to start the second quarter before Malone canned a three-ball for Marked Tree to make it 24-11 Indians. Reed netted another three-pointer for EPC only to see the Indians get a three-ball from Booker, two free throws from Kentarius Allen, a coast to coast lay-up from Perry and a fast break lay-up from Tray Brown to make it 33-14. An EPC player was whistled for a technical foul as Tray Brown hit one of the two technical free throws to make it 34-14 Marked Tree. Reed put back an offensive rebound for EPC, Tray Brown scored from the paint for the Indians, Isaiah Taylor hit a jumper for the Warriors before Paul Coleman got a score down low for Marked Tree to make it 38-18 Indians with 2:07 left. Malone converted an old-fashioned three-point play for Marked Tree as EPC got back to back from jumpers from Brown and Travis Joplin before Joplin converted a conventional three-point play for the Warriors to make the score 41-24 Marked Tree. Tray Brown scored off the break with five seconds left making the score 43-24 Indians at the half.
Complete game story in February 23 edition of the PCDT!