Yellowjackets stumble in Regional final, still in hunt for three-peat
Thursday, March 2, 2017
The Bay Yellowjackets rolled into the 1A Region 2 tournament at Calico Rock last week on a winning streak, and advanced to Saturday night's final with a pair of double-digit wins--also qualifying for this week's state tourney at Mt. Ida. In the title contest the 'Jackets ran into a hot-shooting Izard County Cougar squad, and fell by 19 points.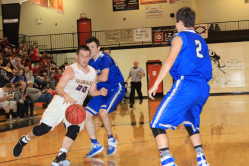 Norfork
The Norfork Panthers were the 'Jackets first round opponents in the regional tourney, and for three quarters the two teams played near even--with Bay riding a big fourth quarter to the win.
Swapping baskets in the first quarter, neither team could gain an advantage and the score stood knotted at 10-10 at the end of the first. The Yellowjackets got 4 in the quarter from Taylor Layne and Nolen Smith, and Dustin Utley added the other two.
Utley got the nod in the second, scoring 8 of the team's 15 points in the frame, while Layne was 3 for 4 from the stripe in the quarter. In turn, the Panthers responded with 16 in the quarter, including four three-pointers by four different players. As a result Norfork enjoyed a one point halftime advantage, 26-25.
Coming out of the locker room following the halftime break, the two squads continued to battle evenly into the second half. Paced by Travis Lewis, with 8 of his team-high 21, Norfork was able to extend the lead to 44-42 as they outscored the 'Jackets 18-17 in the quarter.
Trailing by two points going into the final frame, with the chance to advance to another state tourney on the line, Layne took over and scored 16 of his game-high 27 points in the quarter, including 12 points from the free-throw line. Led by the talented point guard, the Yellowjackets outscored the Panthers 23-12 in the fourth quarter to notch the 65-56 win.
Utley added 19 for Bay, with Nolen Smith finishing with 11. As a team the Yellowjackets were 20 of 25 from the free thrown line on the night, with Layne converting on 15 of 18 attempts.
Full story in March 2 edition of the PCDT!