Harry D. East
Wednesday, March 8, 2017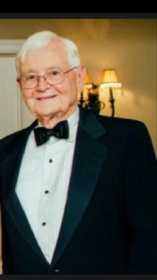 MARION - Harry D. East 83, of Marion, Ark. died Tuesday, February 28, 2017 at Methodist University Hospital in Memphis, Tennessee. Mr. East was the President of East Cotton Company and a United States Marine Corps Veteran.
Mr. East is survived by his wife, Gloria D. East of Marion; one son, Michael Dennis (Baylus) East of Marion; two sisters, Carolyn East and Jean Timbs both of Marked Tree; two brothers, Eric (Gloria) East of Concord, Va. and William R. East Jr. of Jonesboro; three grandchildren, Emilee East (Brack) Brigman, Michael D. (Jodi) East Jr. and Wilkes D. (Erica) East and three great-grandchildren, Mary Elizabeth East, Hamer and Bo Brigman.
He was preceded in death by his parents, William R. East Sr. and Margaret Inez East; two sons, Harry D. East Jr. and Murray David East.
Funeral services were held March 3rd at Roller-Citizens Funeral Home in West Memhis, Ark. Burial follwed at Tyronza Cemetery in Tyronza, Ark.
Memorials may be made to A.S.U. Mid-South Harry D. East Sr. Scholarship Fund, 2000 W. Broadway, West Memphis, Ark. 72301. Online guestbook at www.rollerfuneralhomes.com.