DeVries inks with University of the Ozarks
Friday, March 10, 2017
Harrisburg's Kylie DeVries signed her letter of intent to continue her basketball career with the University of the Ozarks Lady Eagles this past Friday in front of family and friends at the Harrisburg High School media center.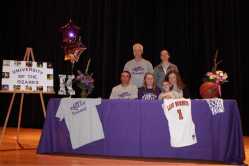 DeVries, who has played point guard the last two years of the Lady Hornets, said it was a relief to finally get her future set. "All my dreams came true when I signed that paper. I've work so hard at getting a chance to play college ball," DeVries said. Even with some interest shown from other schools, DeVries said she knew Ozarks was the place for her. "I went there this summer and fell in love with the college. I knew it was where I wanted to go," DeVries added.
Harrisburg head basketball coach Rick Smith has nothing but praise for his player. "Ozarks is getting a kid who is passionate about the game and knows what she has to do to get where she can play at the college level," Smith said. Smith calls her a gym rat and thinks she will succeed at the next level. "She has a tremendous work ethic and I think her best basketball is definitely ahead of her," Smith added. Looking forward to watching her develop, Smith said the school is getting a great young lady. "Ozarks is getting a quality young lady and I have no doubt she will be successful not only in basketball, but in whatever she chooses to do for a career," Smith said.
As DeVries gets ready to leave the school that's help her get to this point, she has good memories to take with her. "This is where I worked hard to get to the next level. I'll miss my team and teammates, but I'm excited about the next step of my life," DeVries said.
University of the Ozarks is a four-year comprehensive university located in Clarksville. The University of the Ozarks Eagles are a member of the NCAA Division III and compete in the American Southwest Conference against schools from the states of Louisiana, Mississippi, and Texas.
The Lady Eagles basketball team finished this past season with a 10-15 overall record while going 5-11 in conference play. Head coach Carl Ramsey is in his eighth years as the Lady Eagles' head coach.