Marked Tree advances to state title game
Friday, March 10, 2017
Marked Tree (22-10) held on for a 62-57 win over Cutter-Morning Star in one semi-final match-up of the Class 2A state basketball tournament this past Saturday to advance to the championship game to be played Thursday, March 9 in Hot Springs. The Indians will play defending state champion Earle with whom they split their two regular season games.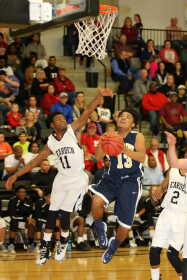 The Indians trailed 14-12 after the opening quarter before coming back to take a 26-22 lead at the half. Marked Tree led 43-41 after three quarters of play.
Colby Malone led Marked Tree in scoring with 17 points as Julian Booker scored 14 points while grabbing five rebounds. Markel Perry finished with 12 points and eight rebounds as Tray Brown tossed in 10 points for the Indians.
In the quarter-final round, Marked Tree led from start to finish in beating Bearden 82-64, despite things getting a little ugly in the third quarter.
Tray Brown scored nine points in the first quarter to help Marked Tree take a 17-8 lead after one. Bearden outscored the Indians 18-12 in the second quarter to cut the lead to 29-26 at the half. Marked Tree pushed the lead back to nine at 45-34 after three as Bearden's coach was given two technical fouls in the quarter causing him to be ejected from the game. The Indians outscored Bearden 38-19 in the final quarter to take the 82-64 win.
Malone led the Indians with 22 points followed by Tray Brown with 21 points. Perry netted 14 points as Coleman tossed in 12 points. Booker finished with six points, Kentarius Allen had five points as Eli McCrary chipped in two points.
Full article in March 9 edition of the PCDT!