Bay Lady Yellowjackets headed to state finals; boys ousted
Friday, March 10, 2017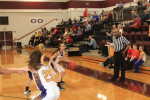 The 1A state basketball tournament brought highs and lows for Bay basketball last week. The high was the Bay Lady Yellowjackets (32-9) punching their ticket for the girls' finals becoming the first girls team from Bay to make the finals. The low was the Yellowjackets (26-14) falling to Marvell 74-51 in the second round dashing all hopes of a three-peat state championship.
The Lady 'Jackets opened tournament play with a 49-41 win over three-time defending champions Nemo Vista last Wednesday in Mount Ida. Whitlee Layne led bay with 27 points as Sarah Blackman tossed in 12 points. Mallory Hartley netted eight points while pulling down 13 rebounds. Bay fell behind 10-0 to start the game before coming back to lead 13-12 at the end of one. The Lady 'Jackets lead 24-20 at the half and 33-31 after three quarters. Back in action this past Friday, Layne scored 19 points as Bay downed Acorn 57-47 to move on the semi-finals. Abby Frisby tallied 15 points for the Lady 'Jackets as Hartley scored 10 points. Sydney Higgins scored seven points and grabbed 10 rebounds for Bay. The Lady Yellowjackets led 33-23 at halftime and 44-38 at the end of three quarters of play.
Bay squared off against Mount-Vernon Enola in the semi-finals as the winner moved on to the championship game. The Lady Yellowjackets scored the last five points of the game to take a 53-50 win. Hartley led Bay with 25 points with Layne finishing with 21 points.
Bay will take on Wonderview at 7 pm Thursday, March 9 in Hot Springs.