Ron Heard
Thursday, March 16, 2017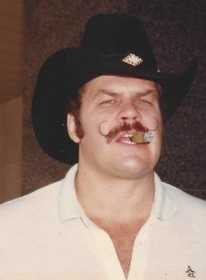 TAMPA, FLA - Mr. Ron Heard departed this life on Tuesday, March 7, 2017 at Florida Hospital of Tampa at the age of 68. He was born Tuesday, December 21, 1948 in Jonesboro and lived in Tampa, Fla. since 1975 and was formerly of Trumann. Mr. Heard graduated Central High School in 1966 and Arkansas State University in 1971. Mr. Heard was a retired professional wrestler known as "Outlaw Ron Bass" for 16 years and a heavy equipment salesman for 19 years. He was a member of Carrollwood Baptist Church in Tampa, Fla. He was preceded in death by two brothers, Leonard Heard and Larry Heard; and his parents, Leonard Joe and Katherine Gatlin Heard.
He is survived by one daughter, Julee (Billy) Willard of Jonesboro, Ark.; two sons, Scott (Kristina) Heard of Knoxville, Tenn., and Joseph Heard of Tampa, Fla.; two brothers, Robert (Donna) Heard of Trumann, and Terry (Sandra) Heard of Jonesboro; four grandchildren, Kassidy and Tanner Heard, Anthony Ferguson and Halle Willard.
Funeral services were held March 14 in the chapel of Thompson Funeral Home with Ronnie Dye officiating. Burial followed in Jonesboro Memorial Park Cemetery in Jonesboro, Ark.
Pallbearers were Bill Gibbs, Shawn Sullivan, Michael Sullivan, Bobby Hutchison, Ricky Hutchison, Tommy Hutchison, John Hutchison, Rodney Hayes, Carl Heckmann and Keith Heckmann.
An online register book can be signed at www.thompsonfuneralhome.net