Lou Harlan
Thursday, March 16, 2017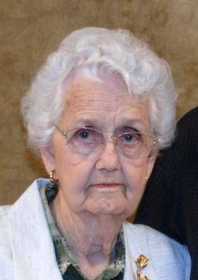 TRUMANN - Mrs. Mary Louise "Lou" Harlan departed this life Thursday, March 9, 2017 in Jonesboro, Ark. at the age of 91. She was born Thursday, September 17, 1925 in Lunsford, Ark. and had lived most of her lifetime in Trumann. Mrs. Harlan was a retired school teacher from the Trumann School District and a very active member of First Baptist Church for 65 years. She was preceded in death by her husband of 69 years, Crawford Harlan; one sister, Ann Brown; two brothers, Wasson R. Holland and James Harrold Holland and her parents, Robert R. and Mattie Frances Wells Holland.
She is survived by two daughters, Judith Harlan (James) Chaffin of Germantown, Tenn. and Marilyn Harlan (Henry) White of Columbia, Mo.; two sisters, Madaline Doak of Jonesboro, Ark. and Bobbie Coleman of Weatherford, Tex.; four grandchildren, Brett Chaffin of Tullahoma, Tenn., Blake Chaffin of Cupertino, Cal., Sharon White Moore of Naperville, Ill. and Daron White of Vancouver, Wash. and seven great-grandchildren, Olivia, Abigail, Jack, Hannah, Kellen, Skyler and Audrey.
Funeral services were held March 12 at First Baptist Church with Rev. John Maley officiating. Burial was private at Jonesboro Memorial Park in Jonesboro, Ark. under the direction of Thompson Funeral Home of Trumann, Ark.
Honorary pallbearers were the deacons of First Baptist Church.
The family requests memorials be made to First Baptist Church, P.O. Box 575, Trumann, AR 72472.
An online register book can be signed at www.thompsonfuneralhome.net.