Indians fall to Earle in 2A state championship game
Friday, March 17, 2017
Marked Tree (28-12) made it further than anybody thought they would this basketball season. The Indians squared off against Earle (30-5) in the state title match last Thursday in Hot Springs. The teams split their regular season games but Earle won the biggest as they defeated Marked Tree 81-62 for their second title in a row.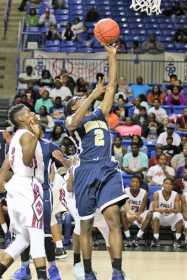 The Indians jumped out to an early 5-0 lead as Tray Brown hit one of two free throws, Julian Booker netted a jumper and Jack Brown made a lay-up. Earle got on the board as Dontrell Johnson got inside for a basket before Colby Malone scored inside for Marked Tree making it 7-2 Indians. Travonta Doolittle canned a three-pointer for Earle as BJ Murray scored inside for the Bulldogs to tie the game at 7. Jack Brown scored in the paint for Marked Tree only to see Doolittle drill another three-pointer making it 10-9 Earle with 3:36 left. The Bulldogs got a jumper from Murray, Marked Tree's Paul Coleman scored inside, Gerry Bohanon hit a jumper for Earle, Nick Andrews hit one of two free throws for the Indians as Bohanon scored back to back to baskets for the Bulldogs in the final minute to make the score 18-12 Earle after one.
Dontrell Johnson broke free for a two-handed slam dunk for Earle to start the second quarter as Markel Perry got a stick back for Marked Tree to make it 20-14 Bulldogs. Johnson put back an offensive rebound for Earle before Doolittle scored back to back baskets for the Bulldogs to push the lead to 26-14. Bohanon got a basket in the paint for Earle as Booker converted an old school three-point play for the Indians making it 28-17 Bulldogs with 4:12 left. Kevon Smith netted a three-ball for Earle, Perry hit two free throws for Marked Tree, Doolittle hit a trey and followed with a jumper before the Indians got two free throws and inside score from Coleman to make the score 36-23 Bulldogs. Travis Rogers connected on two free throws for the Bulldogs as Coleman scored inside for the Indians to make the halftime score 38-25 Earle.
Full game article in March 16 edition of the PCDT!