Lady Yellowjackets win first ever state basketball title
Friday, March 17, 2017
The Bay Lady Yellowjackets (33-9) made school history last Thursday evening in Hot Springs winning the first ever girls' basketball state title for the school. The Lady 'Jackets downed Wonderview (38-5) 40-35.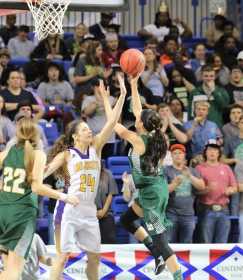 Wonderview got back to back from Faith Byers on an inside basket and a steal and lay-up to take an early 4-0 lead. Sarah Blackman got Bay on the board with a three-pointer followed by a three-pointer from Abby Frisby to make it 6-4 Lady Yellowjackets with 4:30 left to play. Blackman added a running jumper to make it 8-4 Bay forcing Wonderview to call a time-out and try to regroup. Whitlee Layne hit a jumper for Bay after the time-out with just over a minute left before Blackman drove in for a lay-up a few seconds later to make the score 12-4 as the Lady Yellowjackets scored the last 12 points of the quarter.
Bailey Wright hit two free throws for the Lady Daredevils to start the second quarter making it 12-6 Bay. The Lady Yellowjackets got a three-ball from Sydney Higgins on the left wing as Mallory Hartley scored inside for Bay to push their lead to 17-6. Brooke Zimmerman and Kailey Gullett scored back to back baskets in the paint for Wonderview before Byers put back an offensive rebound for the Lady Daredevils making the score 17-12 Lady Yellowjackets with 3:49 left in the first half. Wonderview got a jumper in the lane from Shelby Reynolds before a Lady Daredevil was whistled for a technical foul with 2:21 left. Layne hit both technical free throws for Bay and then added two more free throws with 54 seconds left to give Bay a 21-14 lead as the second quarter ended.
Complete game article in March 16 PCDT on newsstands now!