Waymire gives update about Trumann High School
Friday, March 17, 2017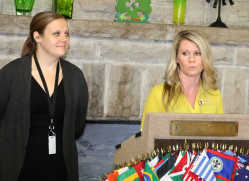 Trumann High School Principal Michelle Waymire was on hand to speak to the Trumann Lions Club about some things that are going on at the high school last Wednesday at the club's weekly meeting. Assistant Principal Reilee Jones was also at the meeting.
Waymire said the school is a project-based learning high school. "It's a little different than what we did. Instead of learning all from text books, the kids now do research and investigation to held in learning," Waymire said. Waymire also said the kids work with the community too.
The school will host a Project Showcase on April 25 starting at 5 p.m. at the high school. "Teachers will set up, with the help of students, to show how the classrooms work," Waymire said. There will also be a dinner that night. "We would love to have the parents and any from the community to come out and join us to see what is happening at the school," Waymire said.
Looking ahead to next year, Waymire told the group they are planning to have a Senior Seminar to help seniors learn about leadership, college and career readiness, ethics and morals and community service. "We will reach out to the community for help with possible internships for the students," Waymire said.
After-school tutoring is another area of change that is being looked at. "We want to have a set time during school hours to do this as some can't stay after school to have tutoring," Waymire said.
The high school has received a virtual reality kit, at no charge, that will help the kids in learning. "Our IT guy said it was so cool," Waymire said. Waymire also said school spirit has been worked on hard this year, not only in sports but in all areas of school. "We call it structured fun: have fun while you are learning," Waymire said.
Assistant Principal Jones said things are going well. "Just happy to be here and to see the progress we are making. If anybody has any projects planned, please reach out to us, and let our students help you," Jones said. The group was told that the Medical Professions class at the high school is helping Life Strategies make a curriculum for a class they are going to start.